Posts for tag: dental implants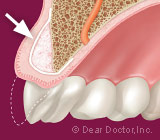 Did you ever think a dentist might suggest that you have a bone graft performed as part of a standard tooth replacement procedure? Believe it or not, it's now a routine treatment — and it's not as complicated as you may think. Welcome to 21st Century dentistry!
If you're thinking about getting a tooth implant — an attractive, strong and long-lasting option for tooth replacement — here are four things you should know about bone grafting.
A bone graft may be needed prior to placing a dental implant.
One major reason why dental implants work so well as replacements for natural teeth is that they actually become fused to the underlying bone. This system offers superior durability, and a host of other advantages. Unfortunately, when a tooth is lost, the surrounding bone often begins to disappear (resorb) as well. In that case, it may be necessary to rebuild some of the bone structure before an implant can be placed effectively.
Bone regeneration for tooth implants is a routine procedure.
When it's needed, bone grafting has become a standard practice in periodontal and oral surgery. It is often performed prior to (or, occasionally, at the same time as) placing a dental implant. The grafting procedure itself can be done in the office, using local anesthesia (numbing shots, like those used for a filling) or conscious sedation ("twilight sleep") to relieve anxiety.
The process may use a variety of high-tech materials.
The small amount of bone grafting material you need may come from a variety of sources, including human, animal or synthetic materials. Before it is used, all grafting material is processed to make it completely safe. In addition to the grafting material itself, special "guided bone regeneration" membranes and other biologically active substances may be used to promote and enhance healing.
Bone regeneration lets your body rebuild itself.
Your body uses most bone grafting materials as a scaffold or frame, over which it is able to grow its own new bone tissue. In time, the natural process of bone regeneration replaces the graft material with new bone. As we now know, maintaining sufficient bone tissue around the teeth is a crucial part of keeping up your oral health. That's why today when a tooth is going to be extracted (removed), often a bone graft will be placed at the time of extraction to preserve as much bone as possible.
Are you considering dental implants for tooth replacement, and wondering whether you may need bone grafting? Come in and talk to us! With our up-to-date training and clinical experience, we can answer your questions, and present the treatment options that are best in your individual situation.
If you would like more information about bone grafting, please contact us or schedule an appointment for a consultation. You can learn more in the Dear Doctor magazine article "Can Dentists Rebuild Bone?"
By Cerone
December 29, 2012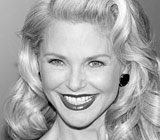 Fracturing back molars is an experience no one ever wants to have. But when a helicopter crashed during a back country ski trip, supermodel Christie Brinkley soon discovered that she had fractured two molars. Fortunately for Christie, her oral health was restored with two dental implants. As she said during an interview with Dear Doctor magazine, "I am grateful for the dental implant technology that feels and looks so natural."
While Christie's dental implants replaced back teeth, we routinely use them to replace both back and the more visible front teeth. But best of all, we have demonstrated expertise at making dental implant crowns look real. This is where we meld science and artistry.
What drives the most natural and beautiful result is how the crown (the visible, white portion of a tooth) actually emerges through the gum tissues. We also match the adjacent teeth identically in color, appearance, shape and profile. But we can't take all the credit, as it takes an entire "behind-the-scenes" team to produce dazzling results. Choice of materials, the laboratory technician (the person who actually handcrafts the tooth), the expertise we use in placing a dental implant crown and the total quality of care we provide are the ingredients necessary for success.
Another critical factor required is ensuring there is enough bone volume and gum tissue to support an implant. Both of these must also be in the right position to anchor an implant. However, if you do not have adequate bone volume, you may be a candidate for a minor surgical procedure to increase your bone volume through bone grafting or other regenerative surgical techniques.
To learn more about dental implants, continue reading the Dear Doctor magazine article "Matching Teeth & Implants." Or you can contact us today to schedule an appointment so that we can conduct a thorough examination, listen to your concerns, answer your questions and discuss treatment options. And if you want to read the entire feature article on Christie Brinkley, continue reading "The Secret Behind Christie Brinkley's Supermodel Smile."