Posts for: November, 2012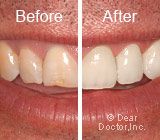 If you are unhappy with the appearance of your smile and would like to change it, we can help you determine what will work best, from a simple whitening to brighten your smile to a complete smile makeover — the possibilities are almost limitless! Consider a "Smile Design" customized just for you. One method of improving your smile is with porcelain veneers. Porcelain laminate veneer tooth restorations are thin layers of dental ceramic — a glass-like material created by dental laboratory technicians, the "artists" who exactly mimic natural teeth making them straighter, whiter, and brighter. They are used to replace worn, dull-looking stained enamel. In addition to making your teeth and smile whiter and brighter, veneers can even be used to change tooth shape and color, close small spaces, and reshape slightly crooked or mis-shapen teeth.
In order to determine if porcelain veneers are a viable solution to help you achieve the smile you have always longed for, consider the following questions:
Do you want to permanently alter the appearance of your smile?
Are you hoping to make improvements to your smile that don't take a very long time to complete?
Are you looking for a way to improve your smile with minimal or even no removal of your natural tooth material?
Would you like to have more evenly aligned teeth?
Do you want to change the color of your teeth?
Do you want whiter teeth and a brighter smile?
If the answer to one or more of these questions is yes and whitening or other treatments have not given you the smile you want, we can help you assess the feasibility of porcelain veneers as one of the many options to enhance and improve your smile. We can fully discuss all the benefits, risks, alternatives, and costs associated with improving your smile.
Call us to make an appointment for a Smile Design consultation and we can get started. If you would like to read more information about porcelain veneers, as well as see a few before and after photos, read the Dear Doctor magazine article "Smile Design Enhanced With Porcelain Veneers."
By Cerone
November 15, 2012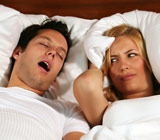 If you wake yourself by snoring or have been told by others that you snore, you should share this fact with us during your next visit. Why? Many people are shocked to learn that their dentist is a vital resource for treating snoring and Obstructive Sleep Apnea (OSA), a condition that occurs when the upper airway (back of your throat) is blocked or obstructed causing significant airflow disruption or even no airflow whatsoever for 10 seconds or more.
Self Test For Sleep Apnea
While your responses to the following questions are not a diagnosis for OSA, they can be warning signs that you may have OSA or another condition that is impacting your sleep.
Are you a loud habitual snorer?
Has anyone ever witnessed you holding your breath, gasping for air or even choking while asleep?
Do you regularly feel un-refreshed or tired even after waking from eight or more hours of sleep?
Do you find yourself easily falling asleep throughout your day at work or at home?
Do you suffer from poor concentration or judgment, memory loss, irritability and/or depression from lack of sleep?
Are you 15 pounds over the normal weight range for your height and/or does you neck measure more than 17 inches around if you are male and 16 inches if you are female?
If you answered, "yes" to any of the above questions, you should share your responses to all of these questions with both your physician and us so that you can receive a thorough examination to address your sleep concerns. And if you are diagnosed with OSA, we can help with specific oral treatment options that may work best for you.
Learn More
Learn more about the signs, symptoms, and treatment options when you read "Snoring & Sleep Apnea." Contact us today to discuss your questions or to schedule a consultation.