Posts for: September, 2013
By Cerone
September 23, 2013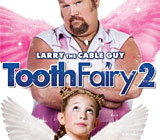 Did you know that severe tooth decay is America's #1 chronic childhood disease? Actress Brady Reiter didn't know either — until she became the star of the movie Tooth Fairy 2, and then joined forces with the National Children's Oral Health Foundation: America's ToothFairy®.
"Before, I didn't even realize what can happen to kids if they don't take care of their teeth," 11-year-old Brady recently told Dear Doctor magazine, after viewing photos of children suffering from severe tooth decay. "There are kids in America who don't know that it's important, or they just don't have the resources to be able to take care of their teeth or to go to the dentist."
This young Tooth Fairy knows just how magical — and vital to a child's self-esteem — a beautiful smile can be.
"When you feel bad about opening up your mouth and smiling, a kid's confidence just goes down the drain," she said.
NCOHF recently tapped 11-year-old Brady to head the America's ToothFairy Kids Club, which offers kids personalized letters from the Tooth Fairy along with lots of encouraging oral health tips and fun activities — free!
"I'm really excited to be part of it," Brady told Dear Doctor. "Kids learn how to take care of their of smile by joining this club. By supporting America's ToothFairy, we can help kids in need get dental care and have a healthy smile too. It's really amazing!"
While lots of kids get an occasional cavity, millions of children have tooth decay so severe that it interferes with their ability to eat, sleep, and concentrate in school. The good news is that tooth decay, a bacteria-induced infection, is preventable.
"When kids join the club, they learn how to prevent tooth decay. When families support this great cause, we can help kids in need. And that's what feels great — that we really can make kids' futures better."
If you would like to enroll your child in the club — it's free! — please visit www.AmericasToothFairyKids.org. And to make sure your child's teeth and your own are decay-free and as healthy as possible, please contact us today to schedule your next appointment.
By Cerone
September 13, 2013
There is nothing pleasant about having a loose tooth. It can be very unsettling to feel your tooth move around, and you may be worried about losing the tooth entirely. If you notice any looseness in your teeth, you should make an appointment with our office immediately, so that we can determine the underlying cause.
There are two reasons for loose teeth, and most often, this looseness is actually a late symptom of gum (periodontal) disease. If left untreated, this disease destroys the supporting structure of your teeth, including the bone. As bone loss progresses, teeth gradually become looser, and if you do not seek treatment, this can ultimately result in tooth loss.
Another less common reason for loose teeth is excessive biting forces, including clenching or grinding of the teeth. These biting forces are outside the normal range of functional pressures and can stretch the periodontal ligaments that join the teeth to the supporting bone, resulting in loose teeth.
In both cases, this condition can be classified as "occlusal (bite) trauma." When we examine you, we will determine the type of occlusal trauma that you have.
If the amount of bone supporting your teeth is normal and excessive force is causing your loose teeth, it then is referred to as primary occlusal trauma. Our treatment approach will focus on reducing the biting forces. We may recommend minor bite adjustments and/or custom mouthguards.
Secondary occlusal trauma occurs when gum disease has caused excessive bone loss. In this instance, even normal biting forces can be damaging. We will work with you to treat the gum disease and improve your oral hygiene efficiency to heal your gums. Once the gum tissue heals and the inflammation is reduced, it is likely that there will be some tightening of the teeth. We will then adjust the biting surfaces of your teeth. This is accomplished by carefully reshaping (by drilling) small amounts of your tooth's surface enamel to change the way upper and lower teeth contact each other, thus redirecting forces. Secondary occlusal trauma may also require splinting or joining teeth together, so that they can handle biting pressures. The need for this additional procedure will be determined by your response to treatment and how much mobility of the teeth remains after the inflammation is resolved.
If you would like more information about loose teeth, please contact us or schedule an appointment for a consultation. You can also learn more by reading the Dear Doctor magazine article "Loose Teeth: Biting Forces Can Loosen Teeth."